End-of-the-Year Party 2017
Programme: Vivat Bacchus Concert
Gundel Restaurant Erzsébet Baalroom
Check on the map!
Budapest, XIV. Gundel Károly út 4.
Vivat Bacchus, established in 2001 has travelled around Europe and the whole world contributing to the promotion of good Hungarian wines in order to strengthen its recognition on the international scene. Within their repertoire we can discover way more than just the traditional folk and drinking songs.
INVITATION
The Joint Venture Association (JVSZ) cordially invites
You, Your Partner and Friends to it's traditional
End-of-the-Year Party!
Date & Venue:
December 5, 2017 (Tuesday) 19.00 -22.00
Gundel Restaurant
(Budapest, XIV Gundel Károly krt. 4., First floor Erzsébet Ballroom)
PROGRAMME:
18.30 – 19.00 Registration, Welcome drinks & snacks
19.00 – 19.30 Welcome speeches
19.30 – 20.00 Programme: Vivat Bacchus (English page)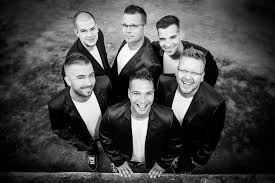 20.00 – 21.00 Dinner
21.00 – 21.30 Raffles / Tombola
Christmas Buffet
Cold appetizers
Marinated breast of duck with pomegranate, crispy leaves and roasted pumpkin seed
Mangaliza ham with pear
Goat cheese mousse with aioli
Selection of bitter leaves with home-made vinaigrette dressing
Selection of fresh breads and rolls
Soup
Gundel fisherman's soup
Main courses
River catfish bits in white breadcrumbs with rice pilaf and tartar sauce
Breast of turkey with dried sour cherry ragout, sautéed potatoes
Traditional stuffed cabbage with sour cream and fresh bread
Braised and sautéed vegetables
Desserts
Somló sponge cake, Marzipan-chocolate truffles
Chestnut dessert with rum, Hungarian rollcake
Drinks: all you can drink Gundel Wines Selection and Dreher beer
Cost of participation:
JVSZ members: 16.900,- HUF + VAT/person Non members: 24.900,- HUF + VAT/person
The participation fee also includes a Tombola ticket for each person, which will be handed over at the registration desk.
Due to the expected large number of visitors and the limited seating capacity, we draw your kind attention that registrations are accepted in the order of arrivals.
Your registration will be confirmed by e-mail! Should you not receive our confirmation in reasonable time, please call our Secretariat – to avoid misunderstandings!
For the raffles/tombola we do again – as usual – look forward to receiving tombola articles (gifts) from our members and other participants, for which we express our sincere thanks in advance!
Yes, we wish to offer tombola gift articles for … winners (For the drawing we kindly ask you to indicate the number of gifts)

We will deliver the tombola gifts to the JVA Secretariat  or

We will bring our tombola gifts to the event
Considering the nature of the event we kindly suggest to use public transport or taxi. Parking is not free along the side road in Gundel Károly krt.! We can not reserve parking lots. Written cancellation of confirmed registration is possible latest till Nov 30 (till 10 AM) 2017, cancellations arriving to us later will be billed at net cost, thanks for your understanding. The invoice will be posted after the event.